These are the game-changing projects in Africa completed in the last year, and those to watch.
Ethiopia light-rail system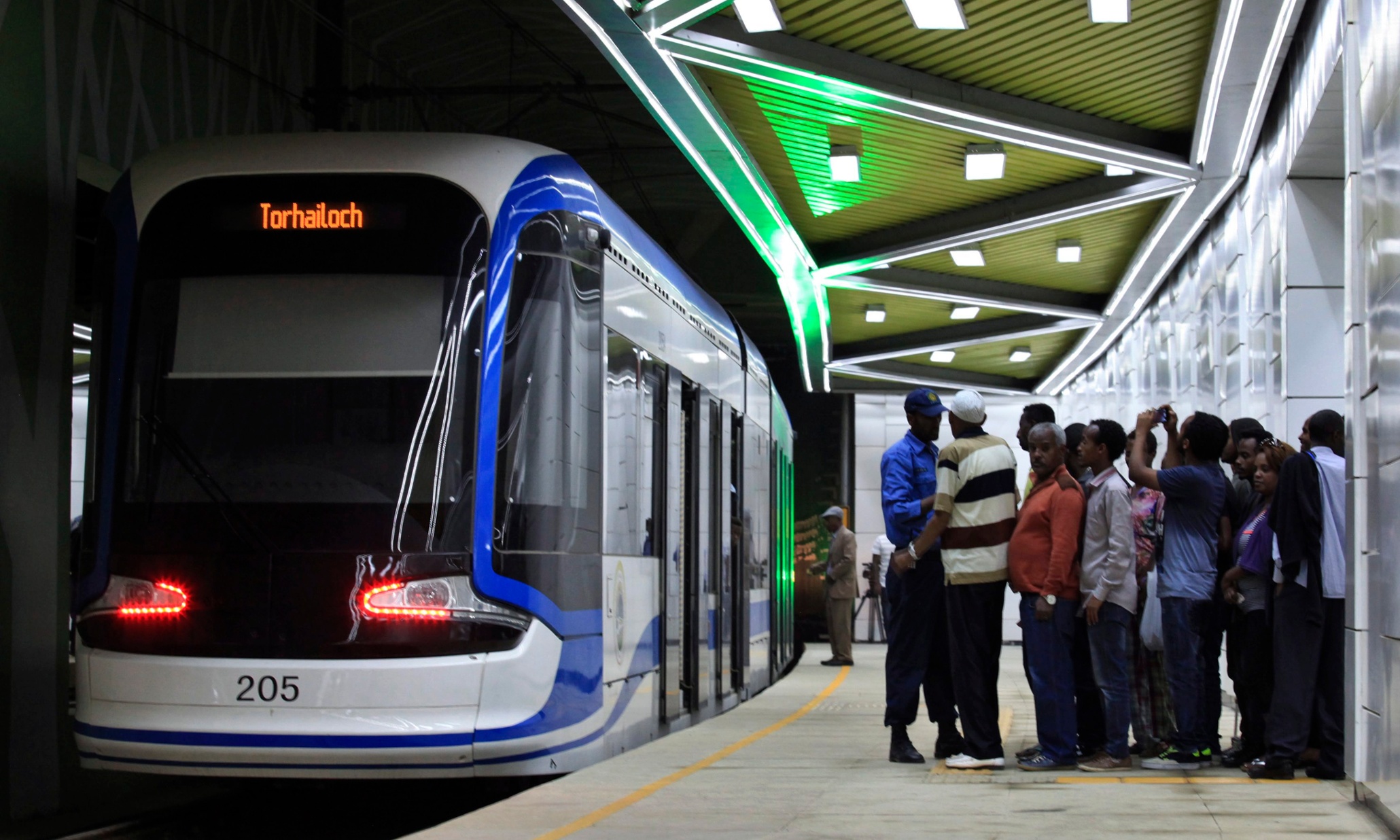 Ethiopia's New Year arrived with a bang, as the Addis Metro chugged to life, making it the country's, and sub-Sahara Africa's first light rail system. With a price tag of close to $500 million the 32-kilometre electrified line has helped ease their daily commutes, Addis Ababa residents invariably tell you. The transport system was built over three years by the China Railway Group Limited after the Ethiopian government secured 85% of funding from the Export-Import Bank of China. Africa's only other light rail systems are found in North Africa—including in Morocco, Algeria and Tunisia.
Morocco's solar plant
Early this year, Morocco switched on the first phase of its concentrated solar-power complex, which when completed in 2020 will become the world's largest solar power plant—with its mirrors covering the same area as the capital Rabat.
The NOOR solar thermal plant cost $894 million, with a final price tag of about $2.4 billion for the whole project, and an anticipated production of 2 Gigawatts. Among its financiers are the African Development Bank (AfDB).
Egypt's 'new' Suez Canal
Completed in a span of only one year, Egypt president Abdel Fattah al-Sisi in August inaugurated the 'new Suez Canal'—a  72-km section that speeds up traffic along the key international shipping route. Officials called the $9 billion project Egypt's '"gift to the world", cutting waiting time for vessels from 18 to 11 hours, and doubling revenue for the country to $13.2 billion by 2023.
Guinea's hydropower dam
In September, Guinea president Alpha Conde roped in his counterparts from Congo-Brazzaville and Niger to inaugurate the $526 million Kaleta hydroelectric plant.
"Without electricity, Africa cannot develop," he said, struggling to control his delight.  "With electricity, we will industrialise and we will no longer see our children dying in the waters of the Mediterranean because they despair of Africa."
With an output of 240 MW, the dam, 75% funded by China, came in 12 months ahead of schedule, having been built over three years. It has already tripled electricity supply, helping end endemic blackouts especially in the capital Conakry.
Sudan agribusiness project
Sudan president Omar al-Bashir in January inaugurated the first 20,000-acre phase of a joint billion-dollar agricultural project with a United Arab Emirates company.
Located in the northern state, the crop and animal-feed production project uses rain irrigation technology and is estimated to span 130,000 acres when complete. Sudan is already home to the renowned Gezira irrigation project.
Puntland airport
The Bosaso international airport sits in the third largest city in Somalia, and is a vital economic lifeline for the semi-autonomous Puntland. In January, it was inaugurated by president Hassan Sheikh Mohamoud, who termed it one of the territory's "big achievements" in decades. The refurbishment now allows for large aircraft to land, as a dirt runway became a gleaming 2.6-km tarmac one, the work done by a Chinese contractor. It is seen significantly boosting the northern economy.
Zimbabwe dual-carriageway
In the scheme of mega projects, the inauguration of a road in Zimbabwe by president Robert Mugabe might not have registered on the scale. But for its wider value, it should. Now a dual-carriageway, it leads to the country's main airport. But in an understanding of how the economy is struggling, it took five years to upgrade the 12-km stretch and was completed just a week ahead of Chinese president Xi Jinping's historic visit last year. China has become the country's major benefactor, and is upgrading two of Zimbabwe's biggest power plants.
Various countries, Dangote Cement plants
Though not strictly public projects, the commissioning last year of multi-million dollar cement plants in each of Cameroon, Ethiopia, Zambia and Tanzania by African transnational investor Aliko Dangote was attended by all their presidents.
It is an appreciation of the scale of the investment and the jobs it creates, but also with cement as a major input in construction, helping to keep scarce funds inside the continent.
And those to watch…..
Ethiopia-Djibouti railway
On November 21, the first freight train to operate on the new standard gauge railway reached Merebe Mermesa, some 112 km south of Ethiopia's capital Addis Ababa, its inaugural journey pushed up by the current drought the country is facing. Contractors are now pushing the finishing touches on the 756-kilometre line by a June deadline, with current estimates being that work is 90% complete. The electrified $4 billion railway connects Addis Ababa to its main port of use, Djibouti. Built in three phases, it is largely financed and constructed by Chinese firms.
Standard Gauge Railway, Kenya
Another transnational railway line is being constructed out of Kenya, with plans to connect on to Uganda, Kenya, Rwanda and South Sudan.
The 609-km standard gauge $3.4 billion line will is scheduled to be completed in December 2017, but earlier for the Kenya portion, which is a key legacy of the current administration ahead of elections in August 2017. Like with the Ethiopia line, it runs parallel to an older meter (narrower) gauge.
Lake Turkana Wind Project
Located in Kenya, it involves the construction of a 300MW wind farm—making it the largest wind farm project in Africa when completed. It has a total bill of $680 million.
N2 Gateway Housing project, SA
Projected to be completed in 2017, the multi-billion rand housing project outside Cape Town opened bypresident Jacob Zuma in October has already delivered 14,000 units, with a target of 22,000. It targets informal dwellers.
Ethiopia airport expansion
Ethiopia is currently expanding its main airport, as it seeks to become a regional aviation mega hub in the mould of Dubai. The Horn of Africa country seeks to take advantage of its plum geographic location between African and Asia with the phased project estimated to cost $350 million but which is the precursor of a planned second $4 billion airport.
Source: M&G Africa