GIT Law Pavilion is the Headline Sponsor of the 2015 International Bar Association (IBA) "Investing in Africa: Opportunities for Businesses and the Lawyers Who Counsel Them" Conference, holding from 24-26 June, 2015 in New York, USA.
The conference is presented by the IBA North American Regional Forum, supported by the IBA African Regional Forum, IBA Communications Law Committee, IBA Law Firm Management Committee and the IBA Section on Energy, Environment, Natural Resources and Infrastructure Law.
With some of the world's fastest growing economies, Africa has become the newest destination for emerging markets investors. The economies of most African nations have grown by an average of 5-6% per year over the past decade, giving momentum to the continent as a whole. Six out of the ten fastest growing economies in the world are in sub-Saharan Africa, and the International Monetary Fund (IMF) expects another African nation to make its way into that list by next year.
Africa's economic growth, although uneven among countries, has been outpacing most of the world, a trend that is expected to continue. Buoyed by an emerging African middle class, international investors are racing to invest in Africa.
Delegates and participants at the conference will discuss topics such as:
Africa's investment trends and how they will affect commercial enterprises and their lawyers
Recent deals in sectors of rapid growth, including agribusiness, finance, IT, media and entertainment and consumer products/retail
Recent deals in mature sectors, including oil and gas, mining, telecommunications and power-related infrastructure
Who is funding Africa's growth? – funding sources, including private equity, capital markets, foreign and African banks, and multilateral institutions (e.g., African Development Bank, International Finance Corporation)
Risk mitigation
How law firms can augment their presence in Africa
"LawPavilion is Africa's leading partner to investors, as far as information on legal framework in the continent is concerned. Over the last ten years, we have worked round the clock to develop information tools that radically empower investors, solicitors and business people in Africa. We are very proud to be the first African company to headline sponsor the International Bar Association's 'Investing in Africa' Conference. We recognise what the continent represents in the global economic space right now, and we considered it our responsibility to lead the next frontier for investment in Africa, and to back that move with the right tool to succeed, as we have done with our Solicitors' Toolkit (STK)," – Ope Olugasa, Managing Director, GIT Limited (LawPavilion).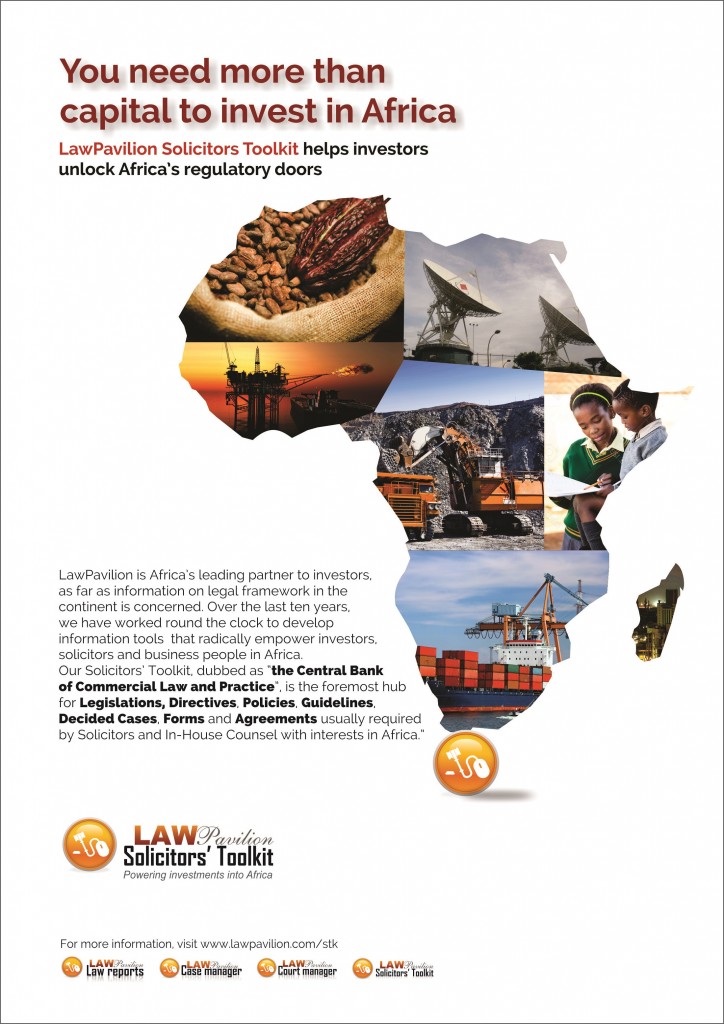 LawPavilion Solicitors Toolkit (STK) is the foremost hub for legislations, directives, policies, guidelines, decided cases, forms and agreements usually required by solicitors and in-house counsel with interests in Africa. It helps investors unlock Africa's regulatory doors. (www.lawpavilion.com/stk)
The conference through panel discussions and exhibitions, will explore the challenges, opportunities and trends associated with tapping into Africa's growth, including sources of investment such as capital markets, national development agencies, multi-lateral institutions, African-based banks and other local funding sources.
As many investors have found, especially in recent years, rewards of investing in Africa exceed the risk involved. This is especially true when the risks are carefully identified and deftly managed. The conference will enable investors and lawyers who operate in Africa to have a firm grasp of the risks associated with investing and operating in sub-Saharan Africa.
About International Bar Association (IBA)
The International Bar Association (IBA), established in 1947, is the world's leading organisation of international legal practitioners, bar associations and law societies. The IBA influences the development of international law reform and shapes the future of the legal profession throughout the world. It has a membership of more than 50,000 individual lawyers and 206 bar associations and law societies spanning all continents, and has considerable expertise in providing assistance to the global legal community.
About LawPavilion
LawPavilion is Africa's leading electronic legal research and practice management solution developed by Grace InfoTech Limited. With an impressive suite of products for legal practitioners, judges, academics and students, LawPavilion uses IT to improve how law is practiced in Africa.